Donate Cryptocurrency to Lifeline Community Services
Support Lifeline Community Services by making a charitable gift in Bitcoin or another cryptocurrency. We accept Bitcoin, Ethereum, and over 70 leading cryptocurrencies.
Lifeline supports youth, adults, and families on their path to self-reliance. Your crypto donation will help others change their own story.
How can I donate cryptocurrency to Lifeline Community Services?
Donating cryptocurrency is safe, easy, and fast. Using the widget above, making a charitable gift is a quick three-step process:
1. Select your preferred crypto and enter your gift amount
2. Type in your email and basic info (or choose to give anonymously)
3. Make your gift!
Upon making a donation, you can elect to receive an automatically generated tax receipt that will be sent to the email address you provide. This confirmation of your donation will help you close the loop when calculating your taxes.
Crypto charitable donations are processed quickly and safely with
The Giving Block
and
Gemini Trust Exchange
.
Which cryptocurrencies do you accept?
We currently accept more than 70 cryptocurrencies, including: Bitcoin (BTC), Ethereum (ETH), Aave (AAVE), Alchemix (ALCX), Amp (AMP), Ankr Network (ANKR), ApeCOIN (APE), API3 (API3), Axie Infinity Shards (AXS), Audius (AUDIO), Balancer (BAL), Bancor Network Token (BNT), BarnBridge (BOND), Basic Attention Token (BAT), Bitcoin Cash (BCH), ChainLink (LINK), Civic (CVC), Compound (COMP), Curve (CRV), Dai (DAI), Decentraland (MANA), DeFI Pulse Index (DPI), Dogecoin (DOGE), Dogelon Mars (ELON), Enjin Coin (ENJ), Ethereum Name Service (ENS), Fantom (FTM), Fetch AI (FET), Filecoin (FIL), Gala (GALA), Gemini Dollar (GUSD), Injective Protocol (INJ), Keep3r (KP3R), Kyber Network (KNC), Lido (LDO), Liquity (LQTY), Liquity USD (LUSD), Litecoin (LTC), Livepeer (LPT), Loopring (LRC), Magic Internet Money (MIM), Maker (MKR), Maple Finance (MPL), Mask Network (MASK), Merit Circle (MC), Mirror Protocol (MIR), Moss Carbon Credit (MCO2), Numeraire (NMR), Orchid (OXT), PAX Gold (PAXG), Polygon (MATIC), Quant (QNT), Radicle Rally (RLY), Raydium (RAY), Radicle (RAD), Ren (REN), Render Token (RNDR), Saber (SBR), Shiba Inu (SHIB), Skale (SKL), Smooth Love Potion (SLP), Solana (SOL), Somnium Space (CUBE), Spell Token (SPELL), Storj (STORJ), SushiSwap (SUSHI), Synthetix (SNX), Terra (LUNA), TerraUSD (UST), Tezos (XTZ), The Graph (GRT), The Sandbox (SAND), UMA (UMA), Uniswap (UNI), USD Coin (USDC), Wrapped Centrifuge (wCFG), Yearn.Finance (YFI), Zcash (ZEC), 0x (ZRX), and 1inch (1INCH).
We are continually in the process of adding support for new cryptocurrencies, so please check back soon for more giving options.
If you don't see a cryptocurrency you would like to donate in,
please fill out this form
to be connected with our Crypto Philanthropy partners at The Giving Block.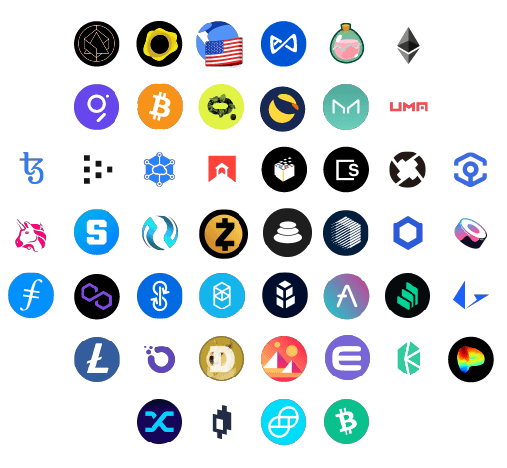 Are crypto donations tax-deductible?
Yes! Crypto donations are one of the most tax-efficient ways to give to charity. Your crypto donation is tax-deductible to the fullest extent permitted by law if you pay taxes in the U.S. By making a charitable gift, you may also be eligible to significantly reduce what you would otherwise owe in capital gains taxes.
As with any tax-related questions, be sure to consult with a qualified, professional tax advisor.
Get more information about lowering your crypto taxes
.