Adopt-A-Family 2023

Frequently Asked Questions
Learn More about Lifeline's Annual Holiday Giving Tradition

1. What is Adopt-A-Family?
Adopt-A-Family is a holiday giving program in North County San Diego designed to help low-income families who are Lifeline clients celebrate the holiday season by connecting them with local businesses, organizations, and individuals who "adopt" them.

2. How does it work?
Complete the Adopt-A-Family interest form to get started. Lifeline will match you with a Lifeline family and provide you with a personalized list of the things they need most, as well as wish items for the holidays. Then, you deliver the gifts no later than December 9th, 2023 to Lifeline's Vista Campus. Please make sure to meet this deadline.
Lifeline staff arranges the delivery of gifts.

3. How are families selected for Adopt-A-Family?
All families who are adopted are Lifeline clients and are nominated by Lifeline staff for their hard work and dedication to becoming self-sufficient. This includes families who have experienced homelessness, youth who have aged out of foster care, youth participating in juvenile diversion programs, survivors of human trafficking, and others. These families are low income or face economic challenges on a daily basis.

4. How much does it cost to adopt a family?
We encourage donors to provide at least two gifts per family member. Over the years, we have estimated that donors on average spend between $75-100 per individual. If you want to make your gift go as far as possible, please contact us.

5. Can I donate used items?
All gifts and donations must be new.

6. Why is the family asking for electronics or other "luxury" items and not just basic needs?
While we encourage families to focus on basic needs, we also ask them to think of a "special wish". Many of our families have never had the opportunity to wish for something some might consider a 'luxury' (for example, an iPhone, a tablet, or spa days, etc). Please don't be offended. Please let us know if you would like us to match you with a different family whose wants and needs seem to be most in line with your budget and expectations. Remember, you are not obligated to purchase everything on the wish list. We hope to provide at least two gifts for each person. You are welcome to provide more if you wish.

7. When and where should I deliver gifts?
We will be accepting gifts December 4 - December 9 during designated drop off times at our Vista Campus. We will also be hosting our annual "Donation Drop-off Party" this year. More information and details to come.

8. How should the items be delivered? Should we wrap the gifts?
Some families love the surprise of wrapped presents for all, while some would prefer to wrap the gifts themselves. We typically see this with parents who would like to feel part of the holiday tradition of wrapping gifts for their kids. There is a section in the wishlist that lets donors know what the families prefer.
We ask that you deliver your gifts in large bins, boxes, or bags so we can ensure your items stay together.
Most importantly: make sure the recipient's name and family code are clearly labeled on ALL gifts.
Once all of your gifts are labeled and placed in boxes/bins/ bags, please label the container with the family code and list of how many boxes you have for the family.
For example if there are 3 total boxes: Box 1 of 3, Box 2 of 3, Box 3 of 3, etc. *see samples below.
If you have more than one family, please use separate boxes for each family.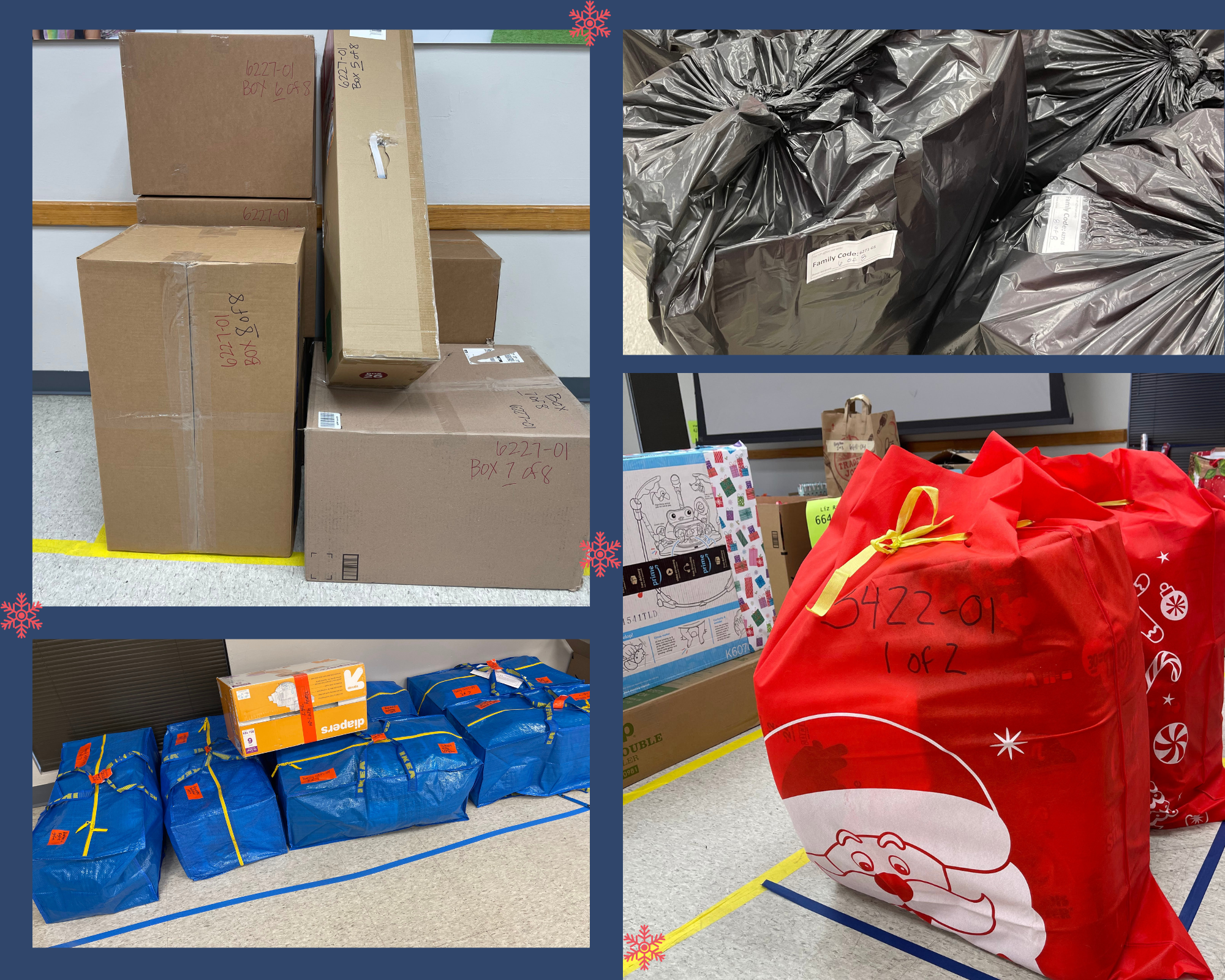 *if you include Gift Cards, please make sure they are activated at time of drop off. To ensure they do not get lost, please put them in one envelope, clearly labeled with the intended recipient, and write the family code on the envelope.*

9. Will I get a chance to meet the family I adopt?
Due to the nature of services Lifeline provides and in order to best respect their confidentiality, we do not allow donors to meet the family(ies) and will not provide donors with more than first names of family members.

10. Can I adopt multiple families?
Yes, you can adopt as many families as you wish as long as you can provide the same level of commitment to each family. We also encourage donors with larger budgets to adopt larger famlies (6+) as those are typically the hardest/last to be adopted.

11. What if I can't follow through with my adoption?
If you are unable to follow through with your adoption, please contact us immediately, do not wait. We will need to make other arrangements for the family.

12. I can't adopt a family, but I still want to donate and/or volunteer my time. How can I help?
Gift cards of any denomination and stores are used to support a family who either hasn't been adopted, or who needs a little extra support. The most requested stores include: Food4Less, Stater Bros, Albertsons, and any gas station.
Throughout the first 2 weeks of December, we need dozens of volunteers! Contact us if you would like to volunteer—bring family, friends, co-workers, the more the merrier! Email us at volunteer@nclifeline.org

13. Is my donation tax deductible?
Adopt-A-Family gifts and donations can be tax-deductible. You will receive a thank you letter in January describing your participation in the program; only gift cards or cash donations will be given their corresponding dollar value in the letter. Keep your receipts as backup for in-kind donations so you can attach those to the letter for tax purposes. Our tax ID Number is 95-2794253.

Have a question that wasn't answered here?
Email give@nclifeline.org or contact 760-842-6254.
more